British National Figure Skating Championships
---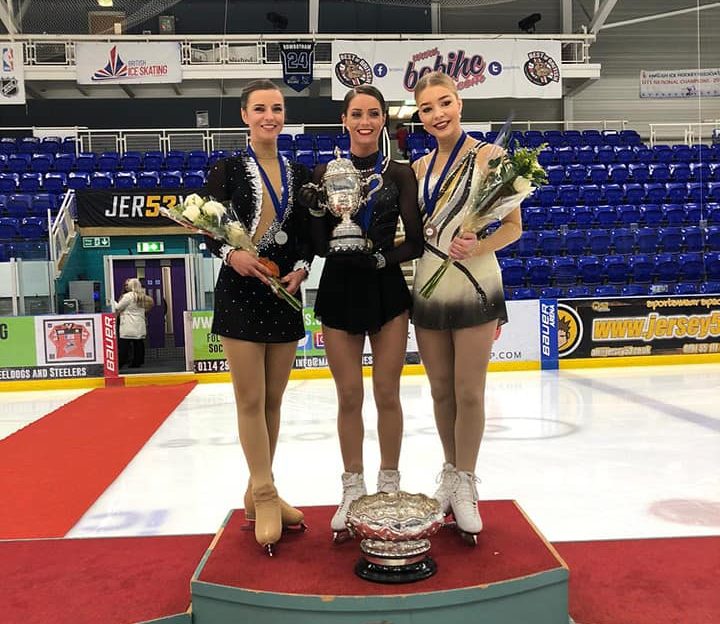 It has been a successful British Figure Skating Championships for Ice Dundee and Natasha McKay crowned herself the new British Ladies Figure Skating Champion for the fourth consecutive year.
Senior Ladies
Natasha McKay, Karly Robertson and Danielle Harrison competed in the Senior Ladies category. They delivered when it mattered most and brought home a Dundee one, two and three.
Short Program
Our Ice Dundee trio put down phenomenal performances. Natasha was first to skate and skated clean apart from a small turn out on her triple Salchow. She scored 60.09 points putting her in 1st place. Next up was Karly who executed the only clean triple- triple combination, triple Toeloop triple Toeloop and with a score of 59.28 she finished in 2nd place. Danielle was the last Dundee skater to perform and delivered a clean performance with her trademark spins showing off her great flexibility. She earned 52.35 points putting her in third place.
Free Program
Our skaters were ready to give it everything they got to bring home the medals. They skated in reverse order so Danni was up first out of the three and completed all her planned elements and impressed the crowed with a beautiful interpretation to the music of Spartacus. She scored 95.01 points an with a total combined score of 147.36 she came in 3rd.
Karly included some difficult jumping elements but also received some minus points for their execution. She showed fast spins with good positions and scored 101.80 putting her 2nd overall with a total combined score of 161.08 points.
Natasha delivered a world class performance to the soundtrack of Ocean's 8 earning high GOE (Grade of Execution) for her jumps, spins and her fabulous step sequence. With a smashing score of 113.68 for her Free Program and 173.77 she crowned herself the British Champion for the fourth year in a row and left the event with three new seasons best and a new British Record.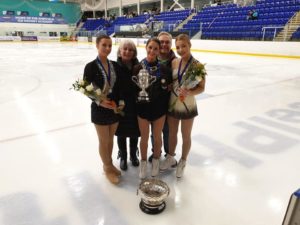 Junior Ladies
After the Dundee 1, 2,3 in the Senior Ladies category Jasmine Cressey was able to impress the judges with two great performances. 
Short Program
She opened her program with a great double Axel and earned the highest program components (artistic mark) for her Short Program. With a total of 41.46 points she was lying in second place going into the Free Program.
Free Program
Jasmine included two double Axel's in her Free Program, one in combination with a double Toeloop. She also received a point deduction for a fall on her triple Toeloop but earned the highest programme components again in the competition. With a score of 72.10 and a total combined score of 113.56 points Jasmine finished the competition in 2nd place.