Clean sweep for Ice Dundee skaters
---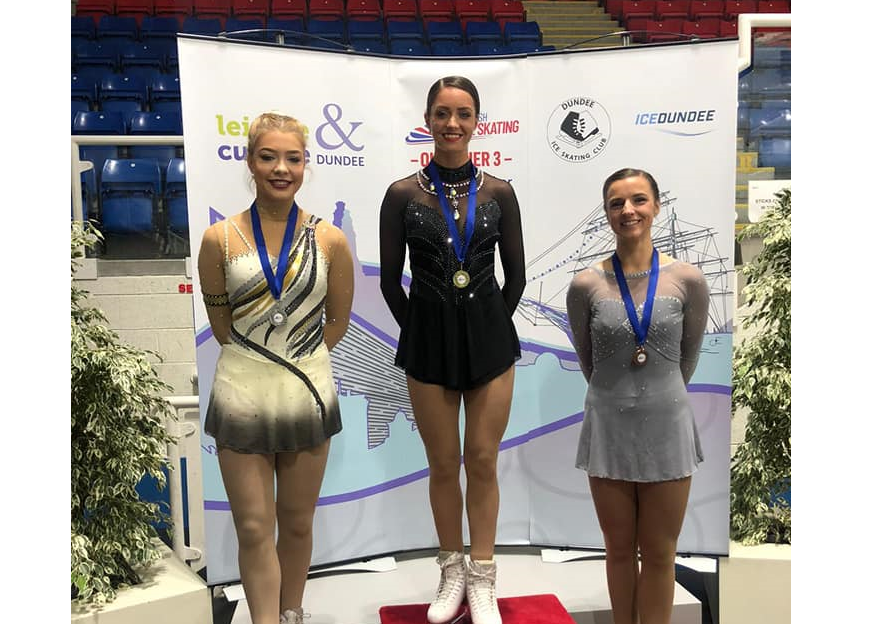 British Ice Skating Qualifier 3 was a very successful competition for Ice Dundee skaters Karly Robertson, Natasha McKay, Danielle Harrison and Jasmine Cressey.
Senior Ladies
Short Program
Natasha McKay, current and three time British Champion, was in top form and produced a world class performance. Her program included a triple Loop double Toeloop combination, a triple Salchow as well as a double Axel. She earned positive GOE (Grade of execution) for all her elements and scored 57.95 points, easily putting her in 1st place.
Karly Robertson showed the hardest technical elements in her program, trying the only triple triple combination – triple Toeloop triple Toeloop – in this event. However, she had some errors, lowering the GOE on her jumping elements. Her spins and steps received positive marks throughout, placing her in 2nd place with 53.97 points.
After being injured last season, Danielle Harrison put down a strong performance. She executed a beautiful triple Salchow double Toeloop combination, as well as a double Axel and triple Toeloop. Danni showed off her great spins with beautiful positions, earning 52.47 points bringing her in 3rd place.
Free Program 
It's an Ice Dundee 1,2,3 on the last day of the Qualifier 3 event for the British Championships.
Natasha McKay , impressed the judges with a brilliant performance. Her program included two triple Loops, one in combination with a double Toeloop, a triple Salchow and a triple Toeloop. She came in first place in the Free Program and won the  overall event with 163.01 points. This is a new British record and a Personal Best score for Natasha.
"I am happy to come away with a Personal Best, a British record and 1st place from this competition. It is great to skate in my home rink and feel all the support from Dundee. I have worked very hard over the summer to get my programs to the highest level and adding in more difficulties. I feel ready to compete in my upcoming international assignments in Croatia and Austria. My goal for the British Championships later this year is to regain my title, which would be the 4th in a row".
Danielle Harrison showed massive improvements in the Free Program from her previous competitions. She executed a triple Toeloop, a triple Salchow, as well as two double Axel's, one in combination with a double Toeloop. Danni finished the event in 2nd place, with 145.68 points. Her next competitions are in Croatia and Latvia before heading to the British Championships.
Karly Robertson had a tough skate in the Free Program, but still managed to deliver some great elements and an overall good performance. She dropped one place from the Short Program and placed 3rd with an overall score of 138.10. Karly will represent Great Britain in Hungary and Latvia, before competing at the British Championships.
Junior Ladies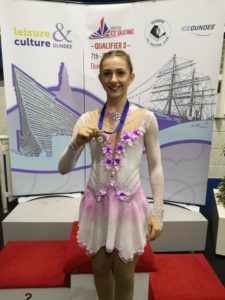 Short Program 
Jasmine Cressey showed off her talent in the Junior Ladies category. She earned a new personal best score in the Short Program of  43.26 points putting her in 1st place out of 21 skaters. Her program opened with a superb double Axel. She was one of few skaters in this category to include a triple jump in their program. She can land the triple Toeloop easily in practice, but it didn't work this time in the program.
Free Program
Jasmine earned another personal best score of 74.72 in the Free Program, which included two double Axel double Toeloop combinations, but also a fall on her opening triple Toeloop. Her spins and step sequence received positive GOE from all judges and she also received high marks for her program components. With an overall personal best score of 117.98 she finished the event in 1st place, with more than 10 points difference.
"I am very happy with my performances earning new Personal Best scores. It was great skating in front of a home crowd and I felt very supported. This motivates me to continue to train hard for my upcoming competitions. My goal for the British Championships is to earn another Personal Best score"
The British Championships will take place from 25th November – 1st December in Sheffield. Make sure to keep an eye out as we can expect great things from our Dundee ice skating stars.