Dundee Opens 2018
---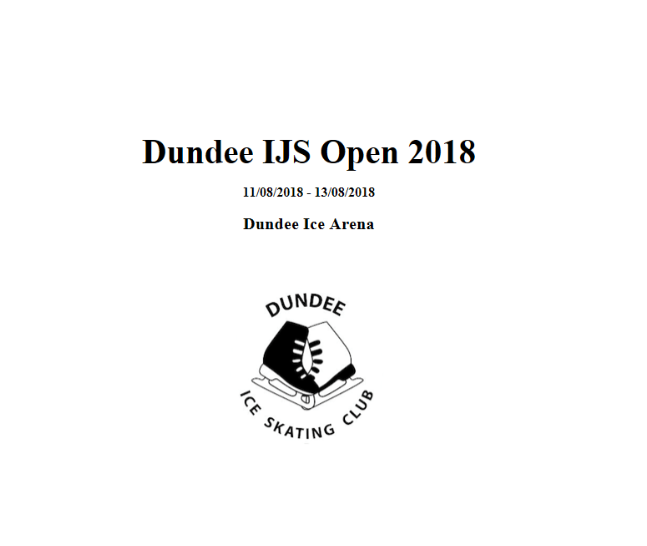 Dundee skaters successful in front of home crowd – 10/09/2018 – 12/09/2018
Ice Dundee skaters have been very successful in the Junior and Senior Ladies category at Dundee Opens 2018, an event hosted by Dundee Ice Skating club
Junior Ladies
Ana competed in the  Junior Ladies category at Dundee Opens. Her Short Program with three level 4 spins, a level 4 step and a triple Lutz combination earned her a score of 47.85 points placing her 1st out of 10 ladies.
Ana's Free Program including a triple Lutz combination and a solid triple Flip placed her 1st again with a score of 84.46 points.
Senior Ladies 
Ice Dundee's skaters swept the podium in the Senior Ladies Short Program. Placing 1st out of 7 was Natasha McKay current British Champion with a great performance and a score of 54.07 points. Second place was claimed by Karly Robertson with a score of 54.00 points followed by Danielle Harrison with a score of 51.98 points. In 4th place was Katie Powell also from Dundee with a score of 40.61 points.
In the Free Skate Karly Robertson produced a world class performance placing 1st out of 6 with a fantastic score of 101.07 points. In 2nd place was Danielle Harrison also from Dundee with a score of 78.52 points. In third place was Bethany Powell representing Deeside with a score of 78.07. Her sister, Ice Dundee skater Katie Powell earned the 3rd highest Program Components but missed the podium by a couple of points.
Well done to all ladies! 
To view the skaters profile visit: https://www.icedundee.co.uk/team/
To check results visit: www.iceskating.org.uk